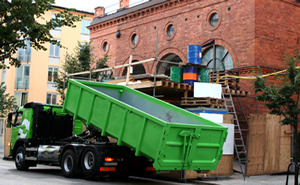 We offer a wide selection of roll off containers to tackle any size cleanup. We'll get your dumpster dropped off quickly and have it placed in the most convenient location possible. When the container's full, give us a call and we'll promptly get it picked up and hauled away. We're here to make your job easier!
Our rates are some of the most competitive in the Valley. Plus, we can have your dumpster delivered as early as the same day in many cases. We also offer flexible rental periods. Give us a call for a free no-obligation quote at (480) 686-9715.
Our experienced staff will make sure you get the ideal container for the job. Why pay for more container than you need? Just describe the type of junk or debris you plan to put into the dumpster, and we'll help you choose the container size that will handle the job in the most cost-effective way.
Construction Dumpsters in Phoenix
10 yard dumpsters – 11'L X 8'W X 4'H
Best for: garage or attic cleanouts, single-room remodels, small cleanups
15 yard dumpsters – 13'L X 8'W X 5'H
Best for: small kitchen remodel, garage and attic cleanouts, concrete/dirt
20 yard dumpsters – 22'L X 8'W X 4'H
Best for: most cleanouts and cleanup projects, small roof re-shingle, tree/brush cleanup, construction debris
40 yard dumpsters – 22'L X 8'W X 8'H
Best for: the biggest projects, commercial, whole-home renovation, demolition, new construction
(Dimensions are approximate and subject to change)
The TC Waste Difference
We're quick! We can get your dumpster delivered the same day in many cases
We work with homeowners, contractors, businesses and industrial clients
Our roll off containers are clean and well kept
Don't feel like loading the bin yourself? We'll do it for you! See our Phoenix Junk Haulers page
We serve the entire Valley
Flexible rental periods
Payment convenience: We accept cash, check and all major credit cards
Se habla español
Call (480) 686-9715 for a free construction dumpster quote from TC Waste